PRESIDENT BUSH RESIGNS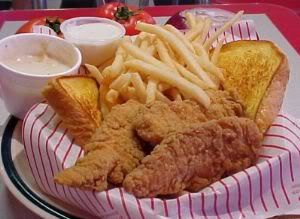 +++
In a surprise and apparently impromptu announcement, which took place at a Chicken Hut on the outskirts of Atlantic Beach in South Carolina, President George W. Bush told fellow Chicken Hut customers Larraine and Wilson Hentners, and their two adopted children Stanley and Marinda, that he would be resigning "probably next Tuesday, Wednesday at the latest," as Bush and the Hentners were dining on an outside patio, cooled by a breeze from the ocean. The Hentners, enjoying a Saturday Family Meal Deal with all the trimmings, were caught off-guard by the president's words. "I mean, we were just sitting there, and his security guys were doing that head-back thing, looking at us in their dark sunglasses, and out of nowhere he drops that bomb on us," said Larraine, age 41. "I about spit out my diet cola, I can tell you."
Wilson Hentners, 42, a swimming instructor at a nearby resort and part-time video store clerk and part-time dairy employee was also taken aback at the President's pronouncement. "He was just non-chalant about it, I almost forgot who he was. Heck, I almost said 'Who asked?' That would've been awkward for sure." Larraine, who teaches at a local elementary school and has a part-time job waitressing at a crosstown eatery and has another part-time job writing fake letters to newspapers, added, "If he was looking to us to talk him out of it he picked the wrong day. We just think he's in a kind of downward spiral, and we don't want him dragging us down and killing all of us and we're gone forever and everybody goes to hell because we got that whole Christian thing kind of assbackwards, you know what I'm saying?"
President Bush went on to say, "I have destroyed lives, I have destroyed this country, I have spent all of my political capital like a drunken sailor and have no right to lead this nation. My decisions have resulted in the deaths of thousands and thousands of Americans and Arabs and dark people, who are Americans too but when I say 'Americans' I don't always remember that." The president paused and took a sip of his sweetened iced tea, then continued, "I will have Cheney dragged into court for acts against the interests of the United States, up to and including military-funding graft and fraud. Bill Frist and Dennis Hastert will be given the opportunity to resign or face a minimum of thirty years in a toxic barrel. Karl Rove, whom I love like a brother, will be killed and eaten by Eskimos in a ceremony to help heal the damage of our drilling in their hunting grounds. Just thinking about the list of things to do is exhausting, and I haven't even gotten to Condi and Don, Grover and Libby and Wolf and Perlie and Barbara and a whole lot of other ridiculous and pathological fascists. I might just put them on a barge on the Potomoc and have our Navy blow it up. I think I can order that--sure, I'll need a back story, but it's worth a try. Can I have one of your chicken wings?"
The Hentners children were playing with their food kind of distantly, and looked as though they didn't want to be at the Chicken Hut anymore. Marinda, an eighth grader at a local middle school, finally offered, almost to herself, with eyes downcast, "It's too late. People are suffering, people are dying or dead, and we as a nation have failed our brothers and sisters horribly." Asked where she learned to talk like a liberal, her 15 year-old sophmore brother, Stanley, stood up for her. "That's what has happened to our country: if you look at issues with a degree of reflection and compassion, with more than a superficial morality or some party-approved talking point, you are immediately accused of being a liberal, as if that were a bad thing. Never in the history of the United States, a flawed but great country, has such a tactic been used by so many in power to squelch reasonable and responsible political dialogue."
After his lunch the President excused himself, apologized again for his miserable and awful life, and walked like a broken and haunted man to his waiting limousine. He looked back at the Hentner Family and said, yelled actually, "Thanks for not making any 'Chickenhawk' jokes. You could have and you didn't, what with this being a Chicken Hut and all. Thank you."
Bush climbed in, and a Secret Service agent closed the door behind him, his steely features betraying no emotion. As the limo driver steered his way out of the roadside parking lot, Larraine looked up and said, "Well, I can't say as how I didn't see that coming," contradicting her earlier claim to be surprised. "Goddamn Chickenhawk."
+++
Image from
here.
+++