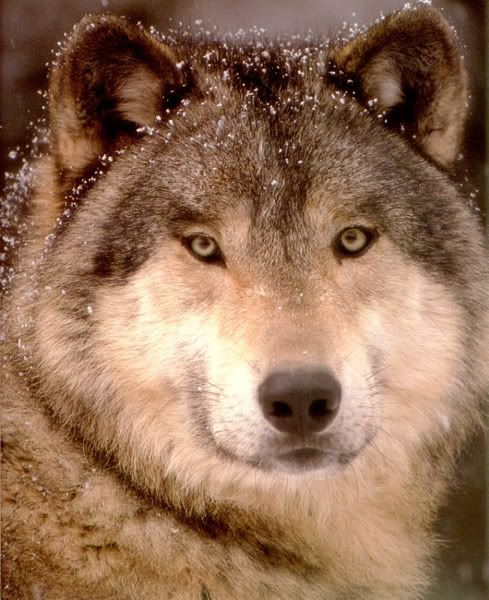 +++
I have in front of me a book about dogs that I want to share a few words from--share them with whoever you are: the book is titled LEADER OF THE PACK (published by
Quill, A Harper Resource Book
) and it was written by Nancy Baer and Steve Duno. My wife rescues dogs and was told about this book: she read it, loved it, made me read it and then bought a bunch of copies to give to people with whom we place dogs, or just people with dogs independent of us who, to my wife's eye, look like they could use some guidance. If dogs could read she would give copies to dogs, but let's not go there.
Most of the chapters in the book begin with a description of the goings on in a certain pack of wolves, with extra stress on what the Leader of the Pack does to efficiently run said pack. Chapter titles include "Leaders Eat First" and "Leaders Protect Their Packs" and one which I will reprint some of the text from: "Leaders Are Calm, Fair, and Confident." I must now confess one small bit of trivia which betrays my sentiments: I was born in the Year of the Dog, and have had my share of joys and sorrows with these wonderful creatures.
+++
From Chapter Seven: LEADERS ARE CALM, FAIR AND CONFIDENT
The pack rested after eating. The young elk had been taken down by three young males after they discovered it limping across the muddy flood plain of a small alpine lake. By the time the rest of the pack arrived, the three were busy eating.

The Alpha male sauntered over to the kill, sniffing and licking at it while the three young hunters watched, momentarily halting their feeding, not sure if they should surrender their hard-earned privilege. Then, the Alpha male walked off a few paces and lay down, content to watch the three fledgling hunters enjoy their first kill together.

The rest of the pack tentatively joined the three young males, who by now had each eaten close to their fill. The Alpha male came over to join in on the meal. He was impressed at the size of the juveniles' first kill and at their initiative. To show his respect, he had allowed these three first-feeding privileges. Confident in his leadership, he knew that they would not interpret his acquiescence as weakness, but rather as tribute to their success. It was the fair thing to do.*
*The authors switch gears here and give their take on what has occured:
The leader of a wolf pack is not a tyrant, but rather a benevolent dictator and an efficient administrator. He should not steal from a subordinate, discipline irrationally, lose his temper, or show any signs of fear toward pack members or outsiders. Proper leadership instills confidence into the pack, rewards initiative, and operates in a consistent, predictable manner. If the Alpha male were skittish, temperamental, and unfair, pack unity would quickly deteriorate, resulting in a diminished level of teamwork. Ultimately, a high mortality rate among the young would follow,
threatening the very survival of the species
(italics mine)
. Responsible leadership involves not only authority, therefore, but also knowing how to raise the confidence level of subordinates by acting in a fair and reasonable manner.
(edit)
As leader of your pack, you must set a good example for Bobo (Editor: your dog). Avoiding temper tantrums and irrational emotion, exuding confidence, and treating those around you fairly will help solidify you as a true leader and not just a big bully. Intimidation is
not
leadership, but simply physical domination that lowers confidence and fosters a climate of fear. A dog that is lorded over by a hard, unfair, emotional person will obey out of fear, but it will be scared of strangers, other dogs, and new situations. It will also have no genuine respect for its owner and very little loyalty. Dogs that are mistreated in this way by bullying owners often run away or develop profound fear-aggressive tendencies, much in the same way that abused children so often end up as violent offenders.
+++
AND NOW FOR MY TWO PAWS WORTH
I have arrived where I must, to look closer at the problem my pack faces in this dangerous and pitiless world:
George W. Bush was also born in the Year of the Dog, one cycle before my turn on the cosmic wheel. Dubya, a puppy never properly trained, thrust into power without really earning his place in the Pack, he has taken a middle-aged version of an Icarus flight, but instead of soaring too close to the sun he steers America too close to the abyss, looks down and growls petulantly. Unable to feel the confidence that comes to a true leader, one who arrived at such a position of power not by privilege and silver spoons, but by merit, talent and maturity, he stumbles in the daylight world, annoyed that anyone would question his role as the Alpha Male, a role that ill-fits his crankiness, his distance, his apparent lack of reflection, and perhaps most importantly, his barely veiled disinterest in the potential for a love of life as lived by all, not just a comfortable few. He has the dry, incurious smirk of an almost casual sociopath, a defiant detatchment, a publicly revealed yearning to go back to his cave and be left alone, a cave he covets as his refuge from an importunate world, a pack he does not really know how to relate to except as a poser, a fake, a grim and hopeless man. He doesn't deserve to be America's Alpha Male, and he knows it, but what can he do--snarl his teeth, send the young off to die, sprinkle platitudes like dust and crave a darkened hole in Crawford where he can disappear into the forgetfulness of dreams. Sleep well, George, sleep well. The pack stirs in the moonless night, and the breeze is fraught with the augeries of fall.
+++
Image of Wolf from
here.
+++
Update: Dan Froomkin chimes in
here.
Seems this sub-basement alpha is snarling and prickly even when surrounded with his yes-men.
+++